HOUSE CONCERT HOSTS WANTED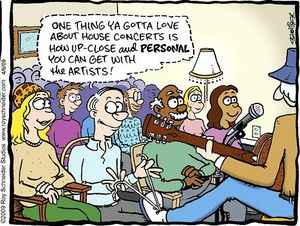 DO YOU ENJOY HAVING YOUR  FRIENDS OVER TO LISTEN TO 'LIVE' MUSIC IN YOUR LIVING ROOM? (all wearing masks of course!) 

WOULD IT BE A THRILL FOR YOU TO HAVE A RENOWN LOCAL ARTIST PLAYING A SET OF CANADIAN ORIGINALS, (and covers), IN YOUR HOME? (you get to brag that you had... 'so and so' in your living room!!!)

DO YOU HAVE A REASONABLY SIZED SPACE YOU OFTEN USE FOR ENTERTAINMENT?
THEN C'MON JOIN OUR GRASSROOTS MOVEMENT!

Attendees get an 'novel' experience of an evening of quality 'live' music for the price of a movie and popcorn in a private home in the Ottawa area.

RIGHT NOW WE ARE SETTING UP OUR SPRING SERIES OF OTTAWA HOUSE CONCERTS  

INTERESTED? IF SPICING UP YOUR HOME WITH ORIGINAL CANADIAN MUSIC AND ADDING TO THE OTTAWA ARTS SCENE APPEALS TO YOUR SENSE OF ADVENTURE THEN:

CALL US TODAY AT (613) 728.5305 or email us at info@musicalwellness.com
House concerts are slowly becoming a reality again after months of on-line offerings.
Typically 10 to 15 guests (wearing masks) can be accommodated safely in the average living room with today's social distancing recommendations in mind, to create an enjoyable environment. However we will go with whatever is comfortable for you in your home. 
If you are not quite ready for guests in your home we can offer the very popular virtual  'Zoom House Party' option - talk to us on our contact page. 
'Girl From Ipanema'
-Tonton & Nigel 
Warming up at a private house concert, on a cold winter's day, with a classic Jobim song.